A prestigeus collaborations, a case study: Pagani
Probably this has been the most demanding and complex project for Delta Sigma: The sonorisation of the Pagani Zonda and the development of the sound of a home stereo Hi End system concept responding to Pagani specifications.
The collaboration between Delta Sigma and Pagani started after Horacio Pagani listened to the Delta Sigma audio system and demanded the absolute best sound system for his extraordinary automobiles; he commissioned Delta Sigma to design the premium sound system for the Pagani Zonda. The world's best sound system for the world's finest automobile of its time.
Breathtakingly beautiful, the Pagani supercar ($1 million) in its' carbon fibre body – pictures certainly do not do it justice. Pagani sells a very limited number of its custom, hand built supercars each year for its clients who want the absolute best.
With the end of the production of the Zonda the partnership came to successful conclusion.

Pagani Home Hi-Fi System
Pagani presented a personal interpretation of sound, experienced not merely through hearing, but also through eyesight and touch, looking for emotions that only art is able to offer. A musical sculpture. The Pagani Sound System is entirely made by hand in Italy, born from the idea to offer a system of highest fidelity and unique design by using exclusively the most refined components state of the art technology has to offer. Its installation in environments up to 50 square metres allows to create a setting of excellent fidelity, an assault on the senses for that emotional involvement while savouring records in a new way.
Delta Sigmas task was to develop the audio components for a very radical and new design submitted by Pagani.
The system included an analogue LP turntable, a CD Player, a preamplifier, a power amplifier and a set of two loudspeakers. It could be turned into a home cinema system with additional power amplifiers, loudspeakers and a DVD player. All analogue and digital connections are Litz hand-twisted copper cables. Handmade transformers are glued in epoxy resin inside iron boxes, to shield electromagnetic fields, and decoupled from the chassis with silent blocks to eliminate vibrations.
The Pagani home HiFi concept caused a stir in the media and showed that such a system had potential to be developed into a production model.
The system is now obsolete and nomore available.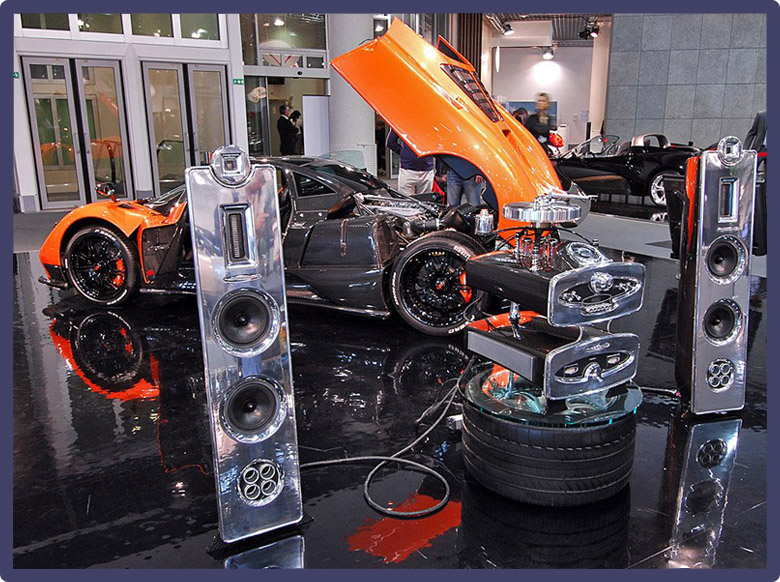 For those who simply prefer the absolute best.